SB-1000 Sand Bath Hotplate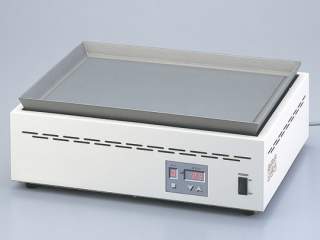 Introduction
SB1000 sand bath heating plate is equipped with an integral heating plate which can be used to fill sands for uniform heating. One can also use this machine as a general-purpose hotplate. The hotplate provides high 1300W heating capacity.
A large plate with W380xD280mm area, with 24mm depth. The aerospace-grade AC4C aluminum-silica-magnesium alloy with high-temperature-material coating are used to make the heat conduction more uniform and durable.
In addition, the controller is designed with lock functions, which can be set to "unlocked", "full locked", and "maximum temperature locked", which can be used in the production line, and avoid misoperation from operators.

Features
It can be heated by sand bath, or used as a general heating plate, one machine for two purposes
1300W high power, rapid heating
Operation lock function, the production line is more convenient and safe to use
Order Information
SB1000 Sand Bath Hotplate
| | |
| --- | --- |
| Control Temperature: | Room Temp.+30°C to +250°C |
| Temperature Control: | PID, Thermocouple Sensor |
| Sand Tray: | W380 x D280mm x H24mm |
| Sand Tray Material: | AC4C Aluminum Alloy |
| Maximum Load: | 5kg |
| Dimension: | W454 x D354 x H165mm |
| Weight: | ~10 kg |
| Heater Power: | 1300W |
| Power Supply: | 110V/60Hz, 15A |
| Operating Temperature: | 5°C-35°C |