Themys Thermogravimetry TGA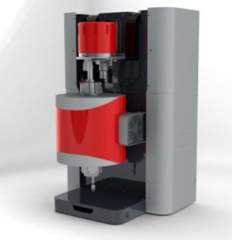 Introduction
Themys is the standard for high performance TGA, TG-DSC and TG-DTA application. It is based on a complete modular thermal analysis platform for - TGA,HP-TGA, DTA and DSC - Simultaneous TGA/DTA and TGA/DSC .The key to the Themys TGA-DTA / DSC is Setaram's unique symmetrical balance, a highly robust and flexible furnace conï¬?guration offering unique performance and the lowest operational costs of any system available. The SETSYS can be conï¬?gured to operate up to 2400°C and also use controlled humidity, vacuum and highly aggressive atmospheres.See also: SETSYS Evolution DTA/DSC SETSYS Evolution TGA SETSYS Evolution TGA-DTA/DSC SETSYS Evolution TGA-gas analysis couplings SETSYS Evolution TMA
Features
Furnace
The Themys comes equipped with a robust and high performance graphite furnace, offering high scanning rates ( up to 100 °C/min across the entire temperature range) and fast turn around between experiments.
A SINGLE furnace covers all applications from ambient to 1750 °C . The maximum temperature operation is adjusted by simply and rapidly changing the control thermocouple (for 800, 1000, 1600 or 1750 °C).
Themys provides also primary and secondary vacuum capabilities.
Atmospheres
3 options, PureGas, GasBlend and MultiGasBlend, are made available with increasing capacities to generate and control complex atmospheres. They all have in common an intelligent software control system for sequentially changing the gas types, flowrates, or blend ratios during the experiment or sample pretreatment.
Primary, Forced Primary or Secondary Vacuum options are available with a selection of adapted vacuum pumps.
Specific accessories are designed for samples under really harsh conditions while protecting the thermal analyzer. Sleeved thermocouples (alumina) and protected DTA rods are available.
Symmetrical Balance
Because the core of a thermogravimetric analyzer is its balance, SETARAM Instrumentation designs balances exclusively for thermal analysis applications. Three models of balance are offered with THEMYS, namely HIGH SENSITIVITY, HIGH CAPACITY and HIGH VERSATILITY.
Electronics & software
Themys comes equipped with CALISTO, the most powerful, user friendly software on the market.
Applications
Materials, metals, metallurgy, ceramics, mining, new energy, medicine, science, polymers, pharmaceuticals, food.
Themys is designed for the most demanding atmospheres and long term isotherms. Its applications include studies on oxidation / corrosion of metals and alloys, reaction between a material and a gas, isothermal stability of materials under particular atmospheres, phase transitions of metals, etc.
Order Information
Themys Thermogravimetry
Optional Accessories
Evolved Gas Analyzer (TGA Coupled)
[Temperature range]:
RT~2400℃
[Scanning rate]:
0.01~100 K/min
[Maximum balance capacity]:
100g/35g
[Weight range]:
+/-2000 mg;+/-200 mg
[TG resolution]:
0.00059μg~0.03μg
[Max. sample size]:
max. L20mm x Φ14mm
[Vacuum]:
10^-5 mbar
[Gases]:
3 carrier gases (MFC from 4 to 200 ml/min) + 1 auxiliary or reactive gas (MFC from 0.3 to 16 ml/min)
[Extra Coupling]:
two 4-port parts placed at
its top and bottom. Up to 8 extra sensors
can be connected
[Evolved gas]:
simultaneous MS, FTIR, GC, GC/MS couplings