Themys One Thermogravimetry TGA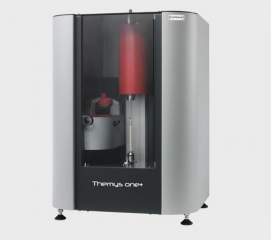 Themys One Thermogravimetry TGA
Top-loading balance based on the same principle as the other symmetrical beam balance models

Introduction:
Top-loading balance based on the same principle as the other symmetrical beam balance models, and temperature controlled for an improved stability .
The Autosampler of THEMYS ONE+ is equipped with a 32 position carrousel for samples and references.
The 3-pin gripper automatically configures to the different sensors and crucibles to give you the most user-friendly system available.
Features:
HIGH TEMPERATURE CAPABILITY
with the convenience of ONE FURNACE to reach temperatures as high as 1150 or 1600 °C
HIGH SENSITIVITY BALANCE FOR THE DETECTION OF SMALL MASS VARIATIONS specifically designed for TGA analysis
PLUG AND PLAY INTERCHANGEABLE RODS to perform TGA, TG-DSC, TG-DTA, and 3D high sensitivity calorimetry / Cp measurements
EXTERNAL COUPLING CAPABILITY evolved gas analyzers (FTIR, MS, GC/MS, MSFTIR, or FTIR-GC/MS)
32 POSITION AUTOSAMPLER on the THEMYS ONE+ version
Coiled metal furnace existing in two distinct temperature ranges (1 150 °C and 1 600 °C). It has been designed to provide a homogeneous temperature zone covering both the sample crucible and the measurement rod area
TGA, DTA, DSC accessories:
‧ Ceramic or metal crucibles from 80 μl to 1 ml
‧ Easyfit TGA, DTA, and DSC rods up to 1150 or 1600 °C
‧ 3D CP rod using multiple thermocouples surrounding large crucibles (380 μl) for more accurate high temperature calorimetry measurements
Applications:
With its wide temperature range (ambient to 1600 °C ) LABSYS evo has a wide range of applications for DSC/DTA, TGA, simultaneous TGA-DSC/DTA, Cp measurements. Various fields of application are possible including polymers and plastics, advanced materials, pharmaceutical compounds, inorganic substances, thermodynamics (Specific Heat Capacity Cp precision within 2 %), energy, etc.
View the application notes in your field, available for download, by visiting our Application Library area. We have also included a
powerful search engine that will enable you to find the most applicable data.
Optional Accessories:
Evolved Gas Analyzer (TGA Coupled)
| | |
| --- | --- |
| [Temperature range]: | RT~1150℃ 或 RT~1600℃ |
| [Scanning rate]: | 0.01~100 K/min |
| [Maximum balance capacity]: | 20g |
| [Weight range]: | ±1000mg or ±200mg |
| [TG resolution]: | 0.02μg |
| [Vacuum]: | 10^-1 mbar |
| [Gases]: | Base |
| [Evolved gas]: | simultaneous MS, FTIR, GC, GC/MS couplings |