Introduction of TS7000 Series Colorimeter
TS7000 series industrial-grade spectrophotometer is a high-precision color measuring instrument designed for industrial testing purposes. The colorimeter adopts a vertical holding mechanism design, which is more in line with large-area and large-scale testing requirements. In addition, the machine is also designed with a standard 1/4" screw fixing hole, which can lock the colorimeter to the machine and combine it with the automated machine for testing.
High Precision Optical omponents
TS7000 series has 1000 grv/mm high-precision blazed grating for light splitting. In addition, it is equipped with a silicon light array detector with a larger photosensitive area. The color sensing capability is more delicate, and the wavelength detection accuracy is below 10nm.
Colorimeter with UV Detection Capability
TS7000 series has two models for selection. TS7600 is designed for general visible color detection, and TS7700 has both VIS and UV light source for fluorescent SCI / SCE reflectance measurement. TS7000 series industrial-grade spectrophotometer can measure and convert in a variety of color spaces and perform most of the calculation of color difference formulas. It is suitable for color measurement standards required by various industries and serves as a color measurement basis for accurate color matching systems.
Flexible Color Measurement Probe
TS7000 industrial grade colorimeter provides two sizes of aperture, 4mm/8mm. User can exchange the aperture by himself. Each type of aperture window contains two types of probes. The probe with positioning sheet can provide higher stability while attaching onto the surface of the samples. The pointed probe without the positioning sheet allows you to measure grooves or smaller areas instead of blocking by the positioning sheet.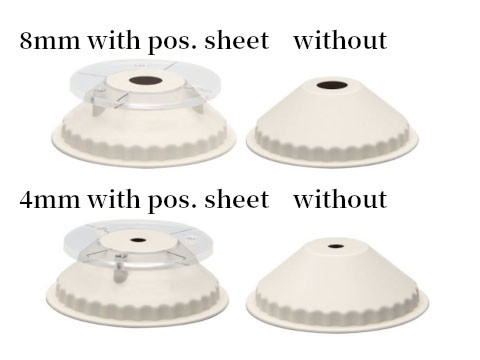 Exchange the Probe by Yourself
Colorimeter Features
D/8 geometric optical structure, follow the color test standard CIE No.15, ISO7724/1, ASTM E1164, DIN5033 Teil7, GB/T 3978, GB 2893, GB/T 18833,
Adopt a full-spectrum combined LED light source with high life and low power consumption, high wavelength stability and longer life
With two measuring apertures of Φ8mm / Φ4mm, you can switch arbitrarily, and the platform/nozzle measuring aperture can be switched conveniently, which is suitable for more samples to be tested;
High-precision grating dual optical path system, the precision of the splitting wavelength is better than 10nm, and the SCI and SCE spectra can be measured simultaneously;
3.5-inch TFT full-color LED touch screen for clear and simple control
USB/Bluetooth (TS7700 only) dual communication interface, remote connection with computer
Large-capacity storage space, can store more than 30,000 test data
Support photography positioning, the screen will be measured wherever it is
Windows connection software, which can control all test functions on the computer and transfer the test database
Applications
Plastic products, electronics, semiconductors, metal chassis paint, car paint, car interior, paint coatings, textile printing and dyeing, printing products, cartons, paper boxes, medical products, cosmetics, and food industries. In addition, it is widely used in scientific research institutions and laboratories.
Order Information
TS7600 Visible Light Spectrophotometer Colorimeter
TS7700 Visible/Ultraviolet Spectrophotometer Colorimeter