NA-T2012 Digital Handheld Free Chlorine Meter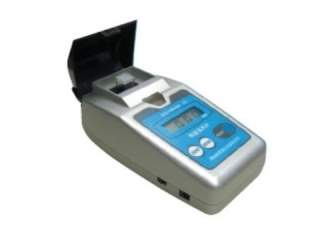 NA-T2012 Digital Handheld Free Chlorine Meter
Free Chlorine Handheld Spectrophotometer
Introduction
Water free chlorine detection requirements have been implemented for many years, Taiwan NIEA also announced "Free Chlorine in Water Test Standard Method - by Spectrophotometer", as a standard for free chlorine in the water.
NA-T2012 digital free chlorine and pH detector, the original standard method to further simplify the same time. And the cost is only 1/10 of a desktop spectrophotometer. The handheld spectrophotometer NA-T2012 significantly reduce your detecting costs. Moreover, it uses dual wavelengths light source to detect and improve the test accuracy (range 0.00 ~ 2.00PPM, accuracy 0.01 ppm). At the same time, the phenol red indicator can also be used to determine the pH of the sample water (range 6.0 to 8.6 pH 0.1 pH).
The instrument uses the standard 1cm sample cuvette, and Taiwan NIEA standard method also suggest the same cell.
Features
Easy to read the result in and digital digital display!
Small and easy to carry.
Use highly safe DPD reagent (residual free chlorine) and phenol red indicator (hydrogen ion pH)
Small package DPD reagent is one-third of the cost of traditional testing
Power for selection, either battery or AC adapter
Applications
Measuring tap water, swimming pool water, kitchen drinking water, purified water tank, free chlorine concentration from sewage, and hydrogen ion concentration (pH)
Order information
NA-T2012 digital water free chlorine and pH detector
Accessories
Cuvette (with cover) 2
DPD reagent (powder) 26 g
Phenol red indicator 4 ml
9V alkaline battery (006P) 1
AC power supply
User's Manual
| | |
| --- | --- |
| [Dimension]: | (W) 8.7 × (D) 16 × (H) 6mm |
| [Weight]: | 250g |
| [Measurement principle]: | Free chlorine - DPD dual-wavelength absorbance colorimetric value; hydrogen ion concentration (pH) - phenol red dual-wavelength absorbance color |
| [Measurement range]: | Free chlorine 0.00 ~ 2.00 (PPM); hydrogen ion concentration (pH) 6.0 ~ 8.6 |
| [Measurement resolution]: | Free chlorine concentration 0.01 ppm, hydrogen ion 0.1 pH |
| [Power]: | battery (9V 006P), AC power supply |
| [Operating Temperature]: | 0 to 40 ° C |
| [Humidity Range]: | 0-85% (mainly water vapor condensation) |