P3000 Automatic Polarimeter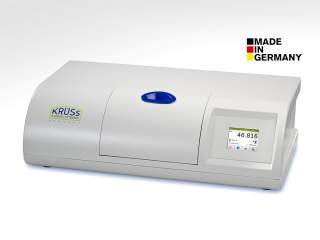 Introduction
The polarimeter P3000 is based on the technology of the P8000 series but built for standard applications for which a
measurement accuracy of ±0.01° is sufficient and a tem - perature control can be omitted. The device is, for example,
used for quality control in the food industry. It performs its tasks in the record measurement time of approx. 1 s that
you are familiar with from our digital polarimeters.
Also in terms of robustness and resistance to chemicals, the P3000 matches the devices of the P8000 series, the user
has access to the same variety of measurement tubes, and the process from the sample supply to the cleaning is identical
to the process with the P8000 and P8100.
The measured values are optionally displayed as an optical angle of rotation or on the international sugar scale of the
ICUMSA. If desired, they can be printed on a serial ASCII printer. Thanks to the reliable temperature compensation, it
is possible to take measurements at any temperature; the results will then be converted to the value for 20 °C.
The P3000 is operated via touch-screen and very easy to operate thanks to the reduced functional scope. The user
interface is available in two languages – English and German. The P3000 therefore boasts a very solid performance
at an attractive price.
| | |
| --- | --- |
| SCALES: | Optical rotation [°], Int. sugar scale [°Z] |
| MEASUREMENT RANGES: | ±90°, ±259 °Z |
| ACCURACY: | ±0.01°, ±0.01 °Z |
| RESOLUTION: | 0.01°, 0.01 °Z |
| MEASUREMENT PERIOD: | ±90° Approx. 1 s |
| LIGHT SOURCE: | 1 LED with filter |
| WAVELENGTH: | 589 nm |
| TEMPERATURE MEASUREMENT: | With temperature sensor PT100, integrated into temperature probe, PRT-E or PRT-T |
| TEMPERATURE MEASUREMENT RANGE: | 0–99.9 °C |
| TEMPERATURE MEASUREMENT RESOLUTION: | 0.1 °C |
| TEMPERATURE MEASUREMENT ACCURACY: | ±0.2 °C |
| TEMPERATURE CONTROL: | External PT31 Bath, Can be retrofitted |
| TEMPERATURE CONTROL RANGE: | External PT31 Bath, Can be retrofitted |
| TEMPERATURE CONTROL ACCURACY: | External PT31 Bath, Can be retrofitted |