Pneumatic Micromeasurer Flowmeter
Pneumatic Micromeasurer Flowmeter
Mechanical & Electronical Pneumatic Flowmeter Micromeasurer, Non-distructive High-speed Measurement

Description
The pneumatic flowmeter principle is based on taking a direct reading of the fall or rise in pressure resulting from the air flw through an orifie or a leak.
A regulator ensures a strictly constant pressure.
Air passes through the head jet and exits through an orifie adapted for the piece to be measured.
Any dimensional variation in the piece being measured results in pressure variations between the head jet and the orifie, and is recorded by the micromeasuring manometer. As the below figure: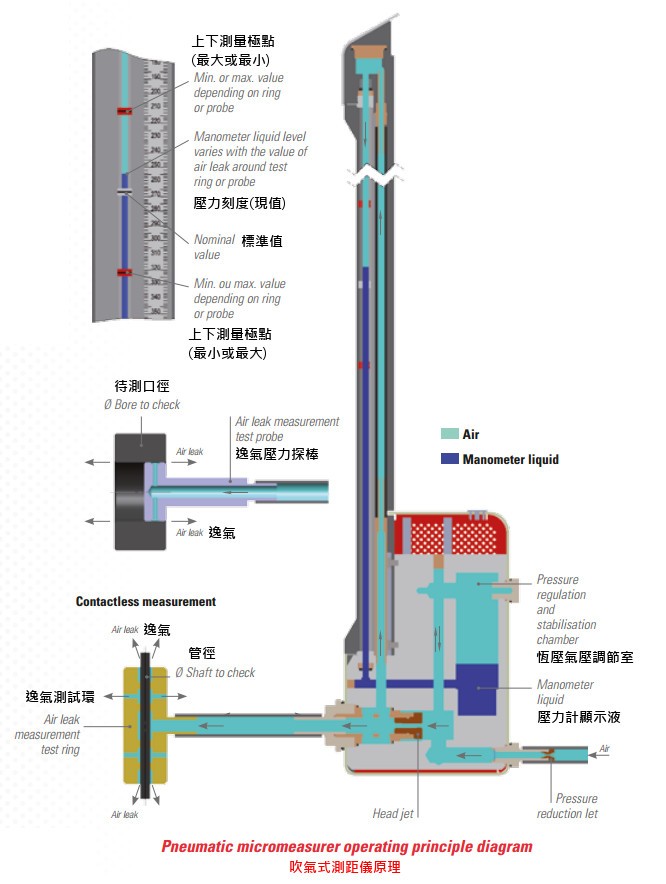 Features
The instrument measures bores and external diameters of orifies and shafts with dimensions between 2.5mm and 300mm, with an accuracy within tenths of a μm.
FOR INTERNAL MEASUREMENTS
Conical gauges

Bearing

Micro Furance

Military, Fire arms
Gauges with several planes

Rectangular or square gauges

Combination of gauges for measuring perpendicularity, parallelism, twisting and centre distances
FOR EXTERNAL MEASUREMENTS
Rings with several planes

Rings for simultaneously measuring several concentric bores

Bearing

Accurate bars & sticks

Accurate cutting (artifical jews cutting)

High precision components
There are various gagues for the samples. Customization is possible.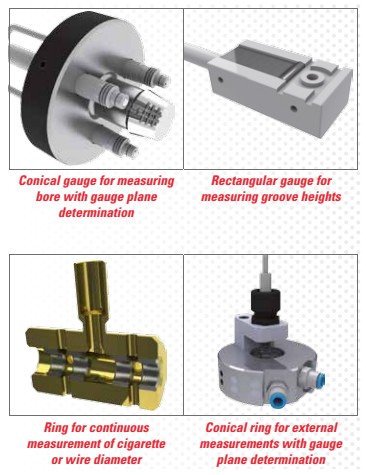 Applications
This instrument is used for the dimensional monitoring of pieces with orifies whose dimensions need to be within very tight tolerances. Such pieces cannot be touched because of their surface treatments, or because of their complex geometry, or because they are fragile or distortable.
For a number of years, in this way this instrumentation has been used in industrial sectors such as biomedics (prosthetics), cosmetics (sprays), pharmaceuticals (dosage pumps), aeronautics and the automotive sector (measuring mechanical parts).
It is recognised for its durability, reliability and its very high measuring accuracy.
With its innovative design and now with a new electronic module, it offers even more fonctionality
Order Information
Electronic Pneumatic Micromeasurer / Flowmeter

Mechanical Pneumatic Micromeasurer / Flowmeter
Micromeasurer
[Technical information]:
Low and high pressure
[Measurable* diameter]:
2.5 to 300 mm
[Measurement range]:
15 to 200 μm
[Accuracy]:
0.1 to 3 μm depending on measuring range
[Reading]:
On graduated rule depening on measuring range
[Instrument dimensions (H / D / W)]:
Pneumatic version 730 / 176 / 96 mm – Pneumatic-electronic version
Flowmeter
[Technical information]:
Low and high pressure
[Measurable* diameter]:
0.2 to 3 mm standard version
[Measurement range]:
Variable depending on diameter being measured
[Accuracy]:
Reading sensitivity
[Reading]:
In SOLEX water height on graduated rule
[Mechanical Pneumatic Dimensions]:
730 x 176 x 96 mm (H / D / W)
[Electronic Pneumatic Dimensions]:
185 / 330 / 95 mm (H / D / W)