Premixed Pesticide Multi-Compound CRMs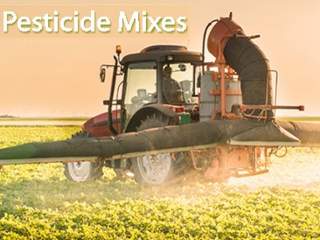 Introduction
Premixed Pesticide Multi-Compound CRMs
Build Your Pesticide Library With SPEX CertiPrep Pesticide Mixes!
Now available, SPEX CertiPrep premixed pesticide multi-compound CRMs. Want all 144 top pesticides? We have the kit containing all of the compounds.
Pesticide residue analysis is a critical step in protecting agricultural products and foodstuff from both the onslaught of damaging pests as well as protecting the environment and the population from potentially dangerous chemical residues.
Many new pesticides are now being tested using GC/MS and LC/MS and GC techniques to determine even minute amounts of pesticide residue in environmental samples and food products. SPEX CertiPrep is the leader in offering HPLC, GC, GC/ MS, and LC/MS pesticide CRMs designed to work within the EPA, AOAC, FDA, and international analytical testing methods.
Your analysis just got faster and easier. Calibration time will be shorter, requiring fewer injections. You will save money too. Our mixes will be less expensive than buying individual CRMs.
CAN'T FIND THE STANDARDS YOU ARE LOOKING FOR?
SPEX CertiPrep can make custom standards to meet your exact needs. Simply choose the organic custom mix you need by filling out the online request here.
Each product listed below contains a variety of compounds. Click on the part number to see the list of compounds and CAS numbers.
Order Information
SPXPR-1 Pesticide Mix 1 Containing 16 Compounds in Acetonitrile
| Components | CAS# | Concentration |
| --- | --- | --- |
| Acetamiprid | 135410-20-7 | 100 µg/mL |
| Aldicarb | 116-06-3 | 100 µg/mL |
| Aldicarb sulfone | 1646-88-4 | 100 µg/mL |
| Aldicarb sulfoxide | 1646-87-3 | 100 µg/mL |
| Azoxystrobin | 131860-33-8 | 100 µg/mL |
| Boscalid | 188425-85-6 | 100 µg/mL |
| Chlorantraniliprole | 500008-45-7 | 100 µg/mL |
| Fenoxycarb | 79127-80-3 | 100 µg/mL |
| Imazalil | 35554-44-0 | 100 µg/mL |
| Imidacloprid | 138261-41-3 | 100 µg/mL |
| Iprodione | 36734-19-7 | 100 µg/mL |
| Piperonyl butoxide | 51-03-6 | 100 µg/mL |
| Pirimicarb | 23103-98-2 | 100 µg/mL |
| Tebufenpyrad | 119168-77-3 | 100 µg/mL |
| Thiacloprid | 111988-49-9 | 100 µg/mL |
| Trifloxystrobin | 141517-21-7 | 100 µg/mL |
SPXPR-2 Pesticide Mix 2 Containing 15 Compounds in Acetonitrile
| Components | CAS# | Concentration |
| --- | --- | --- |
| Azinphos-Methyl | 86-50-0 | 100 µg/mL |
| Carbophenothion | 786-19-6 | 100 µg/mL |
| Coumaphos | 56-72-4 | 100 µg/mL |
| Dicrotophos | 141-66-2 | 100 µg/mL |
| Dimethoate | 60-51-5 | 100 µg/mL |
| Dyfonate (Fonofos) | 944-22-9 | 100 µg/mL |
| Hexythiazox | 78587-05-0 | 100 µg/mL |
| Imidan | 732-11-6 | 100 µg/mL |
| Malathion | 121-75-5 | 100 µg/mL |
| Methidathion | 950-37-8 | 100 µg/mL |
| Phosalone | 2310-17-0 | 100 µg/mL |
| Prophos | 13194-48-4 | 100 µg/mL |
| Quinalphos | 13593-03-8 | 100 µg/mL |
| Terbufos | 13071-79-9 | 100 µg/mL |
| Triazophos | 24017-47-8 | 100 µg/mL |
SPXPR-3 Pesticide Mix 3 Containing 15 Compounds in Acetonitrile
| Components | CAS# | Concentration |
| --- | --- | --- |
| Carbaryl | 63-25-2 | 100 µg/mL |
| Dimethomorph | 110488-70-5 | 100 µg/mL |
| Etofenprox | 80844-07-1 | 100 µg/mL |
| Etoxazole | 153233-91-1 | 100 µg/mL |
| Flonicamid | 158062-67-0 | 100 µg/mL |
| Methamidophos | 10265-92-6 | 100 µg/mL |
| Monocrotophos | 6923-22-4 | 100 µg/mL |
| Omite | 2312-35-8 | 100 µg/mL |
| Phenthoate | 2597-03-7 | 100 µg/mL |
| Phorate | 298-02-2 | 100 µg/mL |
| Pirimiphos-methyl | 29232-93-7 | 100 µg/mL |
| Profenofos | 41198-08-7 | 100 µg/mL |
| Spirodiclofen | 148477-71-8 | 100 µg/mL |
| Systhane | 88671-89-0 | 100 µg/mL |
| Thiamethoxam | 153719-23-4 | 100 µg/mL |
SPXPR-4 Pesticide Mix 4 Containing 15 Compounds in Acetonitrile
| Components | CAS# | Concentration |
| --- | --- | --- |
| Acephate | 30560-19-1 | 100 µg/mL |
| Chlorothalonil | 1897-45-6 | 100 µg/mL |
| Chlorpyrifos | 2921-88-2 | 100 µg/mL |
| Diazinon | 333-41-5 | 100 µg/mL |
| Dichlorvos | 62-73-7 | 100 µg/mL |
| Disulfoton | 298-04-4 | 100 µg/mL |
| Edifenphos | 17109-49-8 | 100 µg/mL |
| EPN | 2104-64-5 | 100 µg/mL |
| Ethion | 563-12-2 | 100 µg/mL |
| Ethyl parathion | 56-38-2 | 100 µg/mL |
| Fenitrothion | 122-14-5 | 100 µg/mL |
| Fenthion | 55-38-9 | 100 µg/mL |
| Fipronil | 120068-37-3 | 100 µg/mL |
| Fludioxonil | 131341-86-1 | 100 µg/mL |
| Methyl parathion | 298-00-0 | 100 µg/mL |
Fipronil 芬普尼,台灣在2017年鬧得沸沸揚揚的「毒蛋」事件,便是在雞蛋中驗出超標的芬普尼殺蟲劑殘留。除了混和標準品外,勢動科技代理的 SPEX Certiprep 的產品中,也有單一芬普尼的標準品產品,以及樣品萃取用的樣品前處理設備。歡迎來電洽詢。
SPXPR-5 Pesticide Mix 5 Containing 14 Compounds in Acetonitrile
| Components | CAS# | Concentration |
| --- | --- | --- |
| Baygon (Propoxur) | 114-26-1 | 100 µg/mL |
| Clofentezine | 74115-24-5 | 100 µg/mL |
| Diuron | 330-54-1 | 100 µg/mL |
| Isoproturon | 34123-59-6 | 100 µg/mL |
| Linuron | 330-55-2 | 100 µg/mL |
| Metalaxyl | 57837-19-1 | 100 µg/mL |
| Methomyl | 16752-77-5 | 100 µg/mL |
| Oxamyl | 23135-22-0 | 100 µg/mL |
| Oxydemeton-Methyl | 301-12-2 | 100 µg/mL |
| Paclobutrazol | 76738-62-0 | 100 µg/mL |
| Pencycuron | 66063-05-6 | 100 µg/mL |
| Prochloraz | 67747-09-5 | 100 µg/mL |
| Pymetrozin | 123312-89-0 | 100 µg/mL |
| Pyraclostrobin | 175013-18-0 | 100 µg/mL |
SPXPR-6 Pesticide Mix 6 Containing 15 Compounds in Acetonitrile
| Components | CAS# | Concentration |
| --- | --- | --- |
| 2,4,5 TP (Silvex) | 93-72-1 | 100 µg/mL |
| Alachlor | 15972-60-8 | 100 µg/mL |
| Bentazon | 25057-89-0 | 100 µg/mL |
| Captan | 133-06-2 | 100 µg/mL |
| Chlorpropham | 101-21-3 | 100 µg/mL |
| Epoxiconazole | 133855-98-8 | 100 µg/mL |
| Fenpropathrin | 64257-84-7 | 100 µg/mL |
| Kresoxim-Methyl | 143390-89-0 | 100 µg/mL |
| Metolachlor | 51218-45-2 | 100 µg/mL |
| Pentachloronitrobenzene | 82-68-8 | 100 µg/mL |
| Prowl (Pendimethalin) | 40487-42-1 | 100 µg/mL |
| Pyridaben | 96489-71-3 | 100 µg/mL |
| Quinoxifen | 124495-18-7 | 100 µg/mL |
| Sanmarton | 51630-58-1 | 100 µg/mL |
| tau-Fluvalinate | 102851-06-9 | 100 µg/mL |
SPXPR-7 Pesticide Mix 7 Containing 8 Compounds in Acetonitrile
| Components | CAS# | Concentration |
| --- | --- | --- |
| Baythroid | 68359-37-5 | 100 µg/mL |
| Bifenthrin | 82657-04-3 | 100 µg/mL |
| Cypermethrin | 52315-07-8 | 100 µg/mL |
| Permethrin (mix of cis & trans) | 52645-53-1 | 100 µg/mL |
| Prallethrin (mix of isomers) | 23031-36-9 | 100 µg/mL |
| Pyrethrins (mix of isomers) | 8003-34-7 | 100 µg/mL |
| Resmethrin | 10453-86-8 | 100 µg/mL |
| Tetramethrin | 7696-12-0 | 100 µg/mL |
SPXPR-8 Pesticide Mix 8 Containing 15 Compounds in Acetonitrile
| Components | CAS# | Concentration |
| --- | --- | --- |
| Abamectin | 71751-41-2 | 100 µg/mL |
| Bifenazate | 149877-41-8 | 100 µg/mL |
| Bromacil | 314-40-9 | 100 µg/mL |
| Fenobucarb | 3766-81-2 | 100 µg/mL |
| Fenpyroximate | 111812-58-9 | 100 µg/mL |
| Folicur | 107534-96-3 | 100 µg/mL |
| Hexaconazole | 79983-71-4 | 100 µg/mL |
| Isoprocarb | 2631-40-5 | 100 µg/mL |
| Methiocarb | 2032-65-7 | 100 µg/mL |
| Propazine | 139-40-2 | 100 µg/mL |
| Propiconazole (Tilt) | 60207-90-1 | 100 µg/mL |
| Spinetoram | 187166-40-1 | 100 µg/mL |
| Spinosad | 131929-60-7 | 100 µg/mL |
| Spiromesifen | 283594-90-1 | 100 µg/mL |
| Spirotetramat | 203313-25-1 | 100 µg/mL |
SPXPR-9 Pesticide Mix 9 Containing 16 Compounds in ACN:Acetone (9:1)
| Components | CAS# | Concentration |
| --- | --- | --- |
| 2,4-DB | 94-82-6 | 100 µg/mL |
| 3-Hydroxycarbofuran | 16655-82-6 | 100 µg/mL |
| Acequinocyl | 57960-19-7 | 100 µg/mL |
| Atrazine | 1912-24-9 | 100 µg/mL |
| Atrazine desethyl | 6190-65-4 | 100 µg/mL |
| Bladex | 21725-46-2 | 100 µg/mL |
| Carbofuran | 1563-66-2 | 100 µg/mL |
| Dylox | 52-68-6 | 100 µg/mL |
| Fenamiphos Sulfone | 31972-44-8 | 100 µg/mL |
| Fenamiphos sulfoxide | 31972-43-7 | 100 µg/mL |
| Fenhexamid | 126833-17-8 | 100 µg/mL |
| Fenoxaprop | 95617-09-7 | 100 µg/mL |
| Fluometuron | 2164-17-2 | 100 µg/mL |
| Molinate | 2212-67-1 | 100 µg/mL |
| Simazine | 122-34-9 | 100 µg/mL |
| Thiophanate-methyl | 23564-05-8 | 100 µg/mL |
SPXPR-10 Pesticide Mix 10 Containing 15 Compounds in Acetonitrile
| Components | CAS# | Concentration |
| --- | --- | --- |
| Aldrin | 309-00-2 | 100 µg/mL |
| Dieldrin | 60-57-1 | 100 µg/mL |
| Endrin | 72-20-8 | 100 µg/mL |
| Endrin aldehyde | 7421-93-4 | 100 µg/mL |
| Endrin ketone | 53494-70-5 | 100 µg/mL |
| Isodrin | 465-73-6 | 100 µg/mL |
| Kepone | 143-50-0 | 100 µg/mL |
| Metribuzin | 21087-64-9 | 100 µg/mL |
| Mirex | 2385-85-5 | 100 µg/mL |
| o,p'-DDD | 53-19-0 | 100 µg/mL |
| o,p'-DDE | 3424-82-6 | 100 µg/mL |
| o,p'-DDT | 789-02-6 | 100 µg/mL |
| p,p'-DDD | 72-54-8 | 100 µg/mL |
| p,p'-DDE | 72-55-9 | 100 µg/mL |
| p,p'-DDT | 50-29-3 | 100 µg/mL |
SPXPR-KIT Pesticide Kit Containing All 10 Multi-Compound Mixes